Chordiality is delighted to have been asked to perform in Halifax at St Columba's Church (52 Highroad Well Lane, Halifax HX2 0QF) in an hour-long afternoon concert at 3pm on Sunday 22 May.
The charity concert, tickets just £5 including refreshments, will raise funds towards church activities and a good audience turnout is expected on the day.
The choir has performed in Halifax on a number of occasions over the years, most recently just prior to the pandemic in 2019. However, this will be the singers' first visit to St Columba's and the audience will be in for a treat as the choir rolls out much of its new repertoire, which has been titled A Celebration of British Music.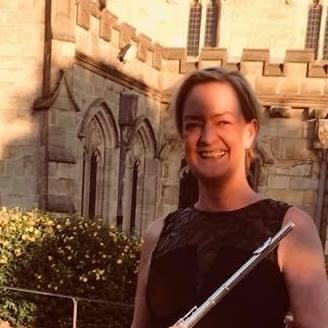 The singers will also be joined in Halifax by guest musician, flautist Rosie Walsh (pictured left), who has guested for Chordiality on many occasions in the past. At Saint Columba's, Rosie will play a selection of her own pieces as well as joining with the choir to reprise a YouTube recording of the sublime Caccini's Ave Maria.
The choir will entertain with favourites including the Hallelujah Chorus from George Frideric Handel's Messiah, a choral version of Edward Elgar's Nimrod, the Thomas Tallis motet If Ye Love Me and the much-loved As Long As I Have Music by Nancy Price and Don Besig. The choir recorded the latter two pieces during the Covid lockdown and both are popular on YouTube.
The St Columba audience will also hear arrangements of popular folk songs Linden Lea (Vaughan Williams) and The Skye Boat Song as well as choral classics including a spectacular medley from the famous Andrew Lloyd Webber musical, The Phantom of the Opera – bring your own mask!
To hear Chordiality in Halifax, tickets, just £5 including refreshments, can be reserved…
…through the church on 07835 444251 or via email at windevney@gmail.com
…or through the choir via email at chordiality.choir@hotmail.com or through a member of the choir
…or simply purchased on the door.