– "joyous, magical, euphoric"
Over 150 people came along to St Barnabas' Church in Heaton, Bradford, for the first of this year's two Chordiality Christmas Concerts, and a good time was enjoyed by all, not least the singers themselves.
The concert was the choir's first in two years since the onset of the pandemic and the singers sang like they had never been away. "Joyous", "magical", "euphoric" were just some of the comments that were offered after the event, which was enjoyed by all concerned, not least Chordiality's Music Director, Peter Sherlock.
"It was a very special Chordiality concert and definitely one of our best," said Peter. "I think this was due not only to the fact that we obviously needed so much to perform again, but also that the choir is in as good a choral state of health as it ever has been, and for many pieces in the concert I have never heard the choir sound better."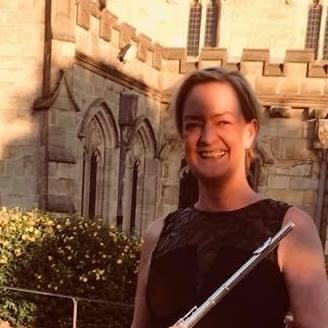 The programme at Heaton welcomed back festive favourites O Holy Night, Hail Smiling Morn, Carol Of The Bells and Masters In This Hall alongside audience carols and seasonal readings. New works included John Rutter's magnificent setting of the Gloria and the sublime melodies of Glow, written by Grammy Award winner Eric Whitacre for the Walt Disney World World of Color Winter Dreams show staged in California. The choir also welcomed guest musician, flautist Rosie Walsh (pictured), to accompany the singers in the ever-popular Ave Maria, which has become a runaway success on the choir's YouTube site.
Sadly, Chordiality's second Christmas outing, at Holy Spirit Church in Heckmondwike, had to be cancelled due to the growing increase in Covid cases, thereby ensuring the safety of both audience and singers.
Although it was disappointing not to be able to repeat their performance of the week before, every cloud has a silver lining and the choir has now been invited back to Holy Spirit for a summer concert in June or early July next year. The singers will start rehearsing a new programme in January, so watch this space for details.
Over the Christmas period, people can still enjoy Chordiality in festive spirit by tuning in to the choir's Christmas Concert 2020 recording on YouTube.
In the meantime, we would like to wish everyone a merry and safe Christmas and a happier New Year.