Christmas returns at the double for the Chordiality singers. With two concerts to savour, and even an online hit recording, the choir is looking forward to performing again to a 'live' audience.
People will be able to hear the choir at the following venues this Christmas and tickets are on sale now – reserve your seats via email at chordiality.choir@hotmail.com or through a member of the choir.
Sunday 12 December at 3pm – St Barnabas' Church, Ashwell Road, Heaton, Bradford BD9 4AU
Sunday 19 December at 3pm – Holy Spirit RC Church, 18 Cemetery Road, Heckmondwike WF16 9EB
Seasonal refreshments are included in the ticket price at both concerts.
During the Covid lockdown, the choir continued to meet online and even produced a 2020 Christmas Concert, despite being in isolation, which was promoted on YouTube (click to view).
One of the pieces on the recording, the beautiful Caccini's Ave Maria, has really caught the public's imagination and the numbers viewing it on YouTube continue to rise by the day.
Such has been its popularity that the piece will feature in this year's two Christmas concerts. The work includes a flute solo and Chordiality is delighted to have secured experienced flautist Rosie Walsh (pictured below), who played on the original recording, to appear at both performances.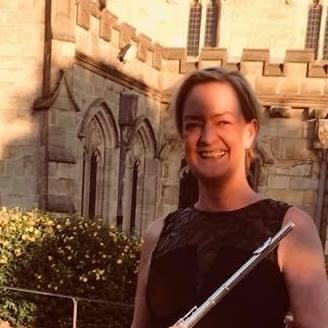 Alongside the Ave Maria, the choir will perform the evergreen festive favourites O Holy Night, Hail Smiling Morn, Carol Of The Bells and Masters Of This Hall. Audience carols and seasonal readings will complement the programme.
The singers are also excited to be performing a number of new pieces in this year's repertoire with John Rutter's Gloria as one of the centrepieces.
Rutter's Gloria has been enormously popular since it premiered in 1974. Regarded as one of the composer's 'heavyweight' works, the rhythmically-powerful music bears all the Rutter hallmarks of balanced vocal writing and concludes with a resounding, triumphant climax.
Book tickets now at chordiality.choir@hotmail.com or through a member of the choir.